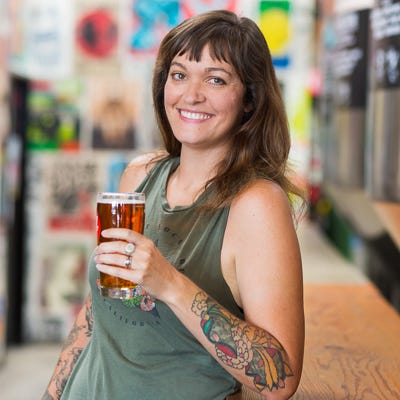 Apr 7 • 46M
2. Hugging the Bar with Beth Demmon
Breaking down barriers of entry, telling the hard stories, respecting your limits, cider, and much more with one of beer's brightest voices, Beth Demmon.
Craft beer, bars, and drinking culture, and why it all matters to us.
Hugging the Bar with Beth Demmon
Well, friends, we've done it again. After debuting the Hugging the Bar podcast with writer Ruvani De Silva, I'm thrilled to present episode two, with Beth Demmon. Frankly, this is starting to feel like a fantastic con: start a newsletter + podcast, get to talk to brilliant people in your industry you admire who also happen to be just lovely humans.
Beth hardly needs an introduction to all you beer fans, but this is a newsletter and there are rules and one is that we have to start somewhere. So: Beth Demmon is a freelance writer and journalist, podcast, BJCP judge, and more recently, a book author(! Read/listen on for details there) covering food and drink, with a concentration on beer and cider. Beth writes for Good Beer Hunting and is also one of the outlet's podcast hosts; you can also find her work in places like Civil Eats, Craft Beer, Craft Beer & Brewing, VinePair, Thrillist, and many more, including San Diego Magazine; Beth is a fixture in her city's beer scene and brings her perspective to lots of podcasts in addition to her written work.
Beth also authors the monthly Prohibitchin'! newsletter highlighting underrepresented voices in beverage alcohol, and operates the Diverse Beer Writers Initiative, a program she started to help break down barriers of entry into the field by offering mentorship and consulting to "women/nonbinary people, LGBTQ+ individuals, BIPOC, and anyone other than the current majority of beer writers and drinkers (i.e. straight white guys, often with beards)." Beth's work is award-winning—time and time again—and is absolutely integral to the narrative of contemporary craft beer. I think what has made Beth a go-to, trusted source for what we need to know in this industry and community, what we need to pay attention to, what's being done and what's not being done, is her innate balance—balance of uncovering even the hardest facts and maintaining the utmost sensitivity, and balance of caring enough about craft beer to want to change the culture while also keeping what craft beer is in perspective and centering the human beings that make it, along with their rights. We get into all of it in our conversation.
A reminder that you can find Beth on Twitter at @delightedbite and on Instagram at @thedelightedbite. Enjoy the chat!